CPD Mark for Estate Agencies Award Scheme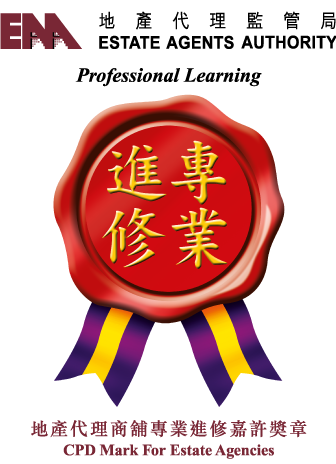 The EAA launched the CPD Mark for Estate Agencies Award Scheme ("the CPD Mark") in 2008 to commend the effort of the owners/management of estate agency shops on encouraging their staff to participate in more Continuing Professional Development ("CPD") activities, so as to enhance the competence of practitioners and to keep their professional knowledge up to date. The CPD Mark is a recognition from the EAA for the agency shops which emphasize continuous professional advancement of their staff.
Under this scheme, holders of an agency shop with 80% or more of their employed licensees (including the branch manager) having been awarded the CPD Attainment Certificate for the CPD period (obtaining 12 CPD points within the period) immediately preceding the current one are eligible to apply for the CPD Mark. CPD Mark holders may, within the validity period of the CPD Mark, display the CPD Mark decal at their awarded agency shops, and print the CPD Mark on their promotional documents or employees' business cards for consumers identification.